About This Course
The Studies in Ephesians course, led by Dr Ben Pugh gives students an opportunity to learn and reflect on a key section of New Testament scripture. A six session course exploring each chapter of the book, plus an introductory overview of Ephesians. Ideal for all those wanting to go deeper into the Bible.
1. Introduction, Welcome and Overview
2. Sure Foundations and Paul's Prayer
3. Grace Alone & One in Christ
4. The Spread of the Gospel & the size of God's love
This course launched on 1st October 2020. When you have completed this course you will receive a completion certificate in acknowledgement of your engagement with the course material. This course has the fee of £75.00.
Requirements
You are required to enrol and pay for your place on this course.
Course Staff
Dr. Ben Pugh
At Cliff, Ben is Programme Leader for the PhD programme and has developed a passion for the inter-disciplinary study of theology and his teaching includes New Testament, Pentecostalism, theology and the arts, philosophy and discipleship. His current research interests are in the interdisciplinary study of the atonement and in the study of the Holy Spirit. He is the co-founder and director here at Cliff of the Samuel Chadwick Centre, which is a research centre focusing on the work of the Spirit in the mission of the Church. So far, Ben's published work in theology applied to a variety of contexts and audiences amounts to over 40 pieces of work altogether. His most recent academic book is his SCM Study Guide to Theology in the Contemporary World (2017).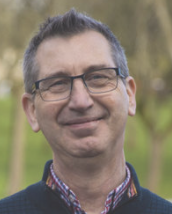 Ian White
Ian is Senior Tutor and the Programme Leader for the Short Course programme at Cliff College. He co-ordinates the non-validated training provision on site, through day and mid week events, as well as a series of Cliff Retreat weekends, week long Cliff College Certificates and longer Cliff College Diplomas. He also heads up the Cliff Summer School programme, co-ordinates the Methodist Worship: Leading and Preaching (WLP) training at Cliff, and is o-ordinating the Cliff Local initiative across the UK.
Frequently Asked Questions
What web browser should I use?
The Cliff College LMS works best with current versions of Chrome, Edge, Firefox, Internet Explorer, or Safari.
How can I pay for this course?
This site uses Stripe e-commerce to pay, you can pay for this course securely online.
Do I have to complete this course all at once?
This is a self-paced course. You may choose to do this all at once over a couple of days, or take a session a day. However it works best for you and fits around your life commitments. We suggest you aim to complete the course within 6 weeks.